Hello to all my friends out there. Friday is usually the day we have Find a Friend Linking Party...well, we're still having the party, but I'm sharing a new friend I made this week. (the linking party is at the end of the post)
I read absolutely EVERY comment I receive...over a hundred every day. Each comment means the world to me and I thank you for all of them. When I have extra time at work or on my day off, I try to click on the links attached to the comments. Well, I stumbled upon a wonderful blog and more over a wonderful story.
My new friend is Geta...from the blog Geta's Quilting studio.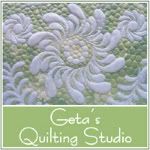 Geta is from Romania and is an amazing quilter...ok, amazing doesn't even begin to describe her. I could have a post a mile long about her, but I'll just share a little and let you enjoy her blog and website on your own.
This is a post I'm doing on my own, with permission from Geta to use her pictures. She did not pay me as a sponsor of my blog...I am just so thrilled to share her story and what a story it is.
Geta's quilting life is one of dreams to be sure. Her story takes her from not even knowing what quilting is in her country of Romania, to having 2 quilts in the Houston Quilt Festival!!!
Unbelievable!!
You
MUST CLICK HERE
to read her story on how she started her quilting journey...self taught in a country with no quilt shops!! She learned from the internet and even that was an obstacle in the beginning. She had to go to an internet cafe to use the computer. I am just in awe of this story...I think it will stick with me forever.
Geta is also a published author of a book on trapunto quilts...
Here are some from her collection.
Here are some of her quilts...
She even sews hexagons...my favorite!! Her quilt is much further along than my poor quilt!! She's my new inspiration.
I hope you have a chance to visit Geta...
CLICK HERE
for her blog and
CLICK HERE
for her amazing website where you can buy download her amazing patterns she designs herself. These are just a few.
The blogging world is just incredible and the people we meet are even more incredible. Funny how this little key board we type on and the screen we look at are the connections to a world of wonder.
Thank you Geta for letting me share your story!!
~Karen~
*************************************************
Let's find more great friends today and share your blog with all of us.
If you are new to Find a Friend Friday (FaFF), you are in for a treat! It's a simple linking party to add a link to your blog so friends, old and new, can stop by and visit.
It's great to share your blog with everyone, but it's also fun just to look around. Even if you don't have a blog, you can find a wealth of great people willing to share their talents. and another great blog to follow.
This is an easy one to participate in...you are just linking to your own blog. No projects to sew, no furniture to paint, no cookies to bake or pictures to take. You are just sharing your blog and then friends will stop by for a looksy.
click on the blue "click here to enter" link at the end...after the last blog that has been linked
copy and paste or just type in your blog address...example: http://sewmanyways.blogspot.com
enter title of link...your blog name or phrase to grab attention
add a photo of you, your profile picture or your blog button or whatever you think will grab some one's attention...(I'm thinking a picture of a big piece of chocolate cake, but that's just me LOL)
That's it...super easy. Have fun checking in on all the new blogs that are linking up each day!